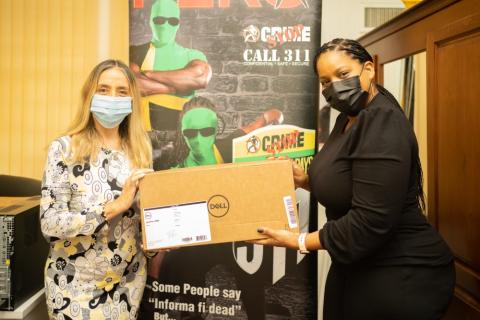 Intcomex Jamaica has donated three (3) Dell desktop computers to the Crime Stop Jamaica programme as part of its social and corporate responsibility and collaboration efforts.
Both organisations marked the donation on Monday, November 1 with an official handover at the office of Crime Stop.
Cherise Bruce-Douglas, Manager of Crime Stop, commended Intcomex for their contribution to the 32-year crime fighting programme. "Success in the fight against crime requires collaboration and cooperation. The Board of Directors and staff of the National Crime Prevention Fund are grateful to the Intcomex Jamaica team for this donation, which will assist the programme in achieving greater efficiency in its efforts to reduce crime. We further thank Claudia Bermudez, Sales Manager, for her swift response to our call for assistance".
Meanwhile, Claudia Bermudez shared her readiness to donate the equipment where she stated, "We are very pleased to partner and assist Crime Stop to upgrade their technology tools so that they continue playing a pivotal role in the fight and prevention of crime in our country. Society improvement is everyone's responsibility, and we are delighted to play a small part to ensure organisations like this have the much needed tools to do what is necessary for a better Jamaica".
This handover highlights Intcomex's continued commitment to supporting Jamaica's not-for-profit, charitable organisations.